You asked...We answered!!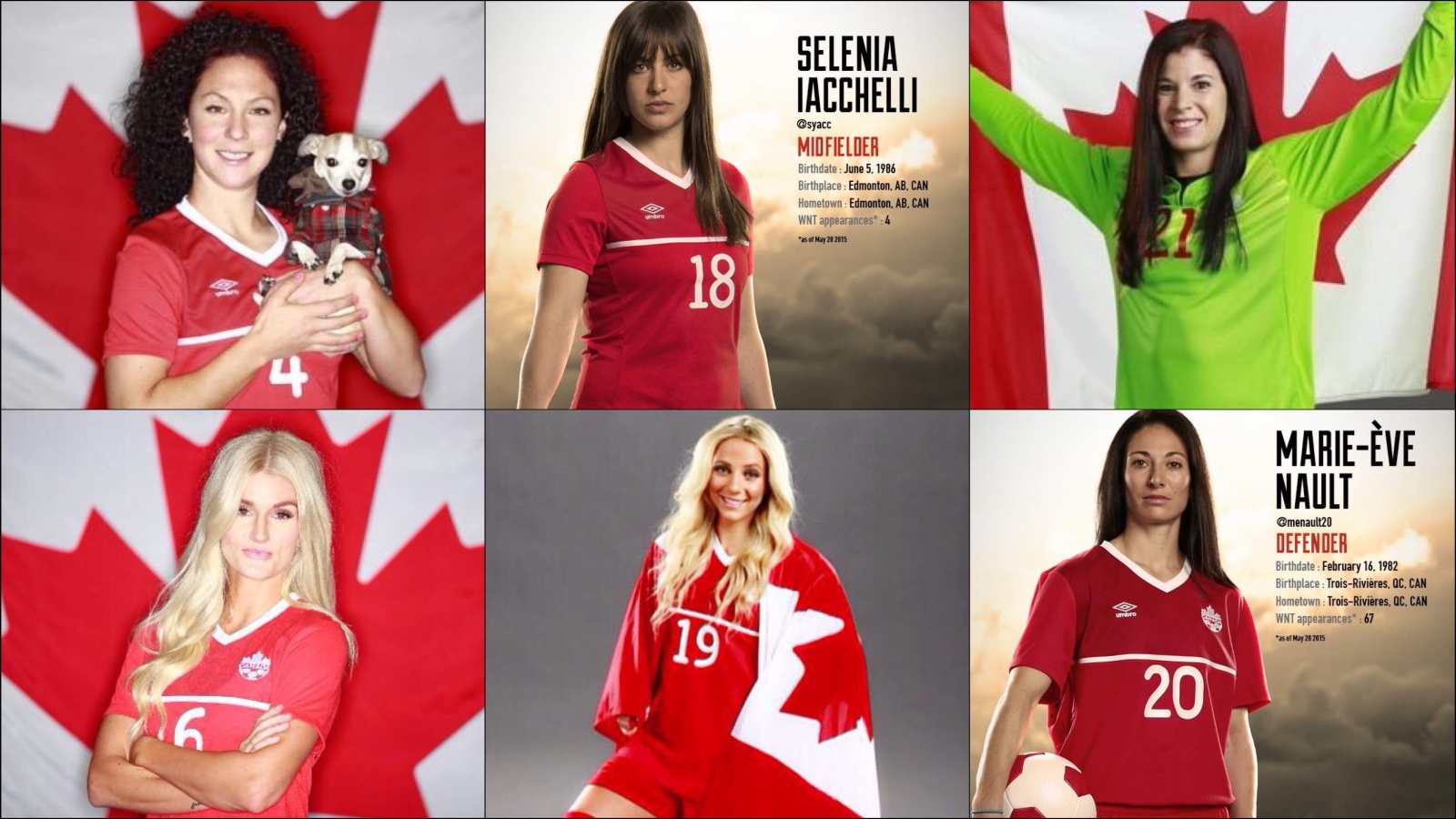 Steph-(Stephanie Labbé, Twitter/Instagram: @stephlabbe1, www.facebook.com/StephanieLabbe21)
Carm-(Carmelina Moscato, Twitter: @cmoscato4)
Kay-(Kaylyn Kyle, Twitter/Instagram: @KaylynKyle, www.facebook.com/KaylynKyle6 )
M-E(Marie-Eve Nault, Twitter/Instagram: @menault20 )
Dri(Adriana Leon, Twitter: @LeonAdriana9, Instagram: @_adrianaleon_ )
Sel(Selenia Iacchelli, Twitter: @syacc, Instagram: @seleniaiacc )

Question #1- Who would your dream person to dance off against be?
Kay- Carm, easy win.
Steph- Taylor Swift
Carm- Haha good question. I think Emily because I'd surely win
Dri- Weird question but I'll go with Kadeisha.
Sel- Rhian Wilkinson
M-E- Throwback to the college days in Tennessee and have a dance off with Rhian even though I know she has added some new moves…for example the Schueme!

Question #2- (For Carm)- What lipstick do you use?
Carm- I have a variety of colours these days, but anything matte red works- and I love MAC products.

Question #3- Who on the team makes you laugh the most?
Kay- Carm's mom
Steph- Carm
M-E- Carm
Carm- Melissa Tancredi and Selenia Iacchelli make me laugh for days.
Dri- Carmy
Sel- Carmelina Moscato and Melissa Tancredi

Question #4- (For Kaylyn and Dri)- Which of you has the better hair?
Kay- Me.
Dri- We all know the answer to that one. (I have the best real hair;) )
Kay- Your ma has the best real hair.

Question #5- Is there a special song that you hear before a game, or rather a certain genre? To get in the "mood"?
Kay- "This is how we do it" Montell Jordan
Steph- Right now its "Cool" Feat. Roy English, by Alesso.
Carm- Cheerleader by OMi and anything by Chris Brown
Dri- The Rain by Calvin Harris…gets me going!
M-E- Shot Me Down- David Guetta feat. Skylar Grey

Question #6- Most embarrassing moment on the pitch ever?
Carm- Hmm, I think my most embarrassing moment on the pitch was scoring an Own Goal vs the USA in a prep match in 2012.
Dri- 2014 second last game of the season, 5 minutes left, slipped in front of the net and missed a tap in goal (do not repeat this).
Sel- I was entering the pitch during an international game vs Italy. While in line walking onto the field I tripped flat on my face on the barrier lining of the inside of the track/pitch. The crown started clapping…I blame my large feet.

Question #7- If you could have any superpower what would it be?
Kay- To fly
Steph- Be able to teleport myself.
M-E- Read people's mind
Carm- See into the future, but I would use it responsibly.
Dri- I wish I had the power to heal people
Sel- To fly

Question #8- (for Marie-Eve)- I see you travel a lot. What is your favorite place?
M-E- I recently went to Abu Dhabi and Dubai with a couple of the girls and i loved Dubai! Going all the way up in the Burj Khalifa was incredible!

Question #9- (for Carm)- What is your favorite song right now, not for life, right now?
Carm- I would say Come My Way by Fetty Wap.

Question #10- What is the word you say the most?
Kay- Your ma
M-E- Da (meant to be ''the" #frenchspeakingprob)
Carm- Shgigatz
Dri- kkkk….
Sel- Sweet sweet angel baby…i know thats four words, but its one for me!

Question #11- What are you most looking forward to at World Cup? Best/worst thing about training for such an intense tournament?
Steph- Hearing our fans sing our National Anthem and seeing a "Sea of Red" at all our games!
M-E- Feeling the energy from our fans when walking into the Stadium and hearing them sing the national anthem with us. And of course the June 15th game in Montreal!
Carm- There is only good things that will come with a platform of this magnitude. I am most looking forward to playing my heart out with my best friends and hopefully making the country proud in the process.
Dri- Standing next to my teammates in that opening match in Edmonton, singing the National Anthem, hearing the fans go wild, and seeing the Sea of Red out in the stadium.
Sel- I am looking forward to going on this journey with my best friends in our home country, and looking forward to making our country proud.

Question #12- How do you prepare mentally for the games, the pressure etc of a World Cup?
Steph- Try to remember that I can't do any more in games than I have been doing in training. I train to the best of my ability, so I know I am prepared when going into games. I listen to music to calm myself down, or to pump myself up depending on my mood.
Carm- Keep on task. There is a lot of confidence that comes with knowing you've put in the hard work with your team. It then simply becomes about execution and sticking to your job and the processes.
Dri- Knowing all the preparation and hard work we've put in the last three years gives us confidence. With confidence, pressure settles and you use your nerves to your advantage.
Sel- Focus on the job that needs to be done. Focus on the process and the task at hand. Focus on being the best teammate I can be on and off the field. As for the pressure, I try to channel it into pure excitement.
M-E- On the way to the games on the bus, I like to do some visualization. I visualize myself completing the tasks with the skillets needed for that particular game. I visualize myself being successful. I trust the work that both myself and the team have put in leading into the game, so I know we can go out, play free and trust our instincts, the foundation is there.

Question #13- Do any of you plan to write a book?
Kay- I would love to write a book eventually
Steph- I love writing blogs, so I can for sure see myself writing one in the future.
Carm- It's definitely crossed my mind.
Dri- My biography will be written in 2016, post Olympics.
Sel- I'll be sure to edit the book that Carm writes.
M-E- I don't plan on writing a book, but I hope to have a feature chapter in all the other girls' books.

Question #14- Do any of you plan on having kids?
Kay- I cannot wait to have kids.
Steph- Yes, I want to have one and adopt one:)
M-E- yes once i'm done playing. I'm an only child so i definitely want more than one.
Carm- Yes, I would feel fortunate to have 2!!!
Dri- The plan is to have 3-4 mini Dri's.
Kaylyn- I can't wait for mini Dri's
Dri- Me toooooo
Kaylyn- Our kids can hang and get into a sh$% ton of trouble while we drink wine in Paris. Or Barbados.
Dri- We are going to be the best role models for our children.
Sel- Yes I always pictured myself having 3 kids.

Question #15- (For Steph)- Support is always great. What advice do you give to McLeod?
Steph- I try to give her tactical advice based on what the opposition is giving us/not giving us, but most importantly to stick with her instincts and trust herself and her abilities.

Question #16- How do you manage being encouraging to your teammates while you're also competing against them for a starting position? Of course you are happy for them but how do you hide your jealousy when you're not #1 and they are?
Steph- Competition makes everyone better. If I am making my teammates better, it's making me better in return. In the end we all want the team to be successful. We understand only 11 can play, and in order to win a World Cup we will all play an extremely important part of the team whether it be a starter, or a finisher. Work your butt off every day, and every "selection" is in the best interest of the team, the only thing you can control is what you do when you train, and when you get your chances.